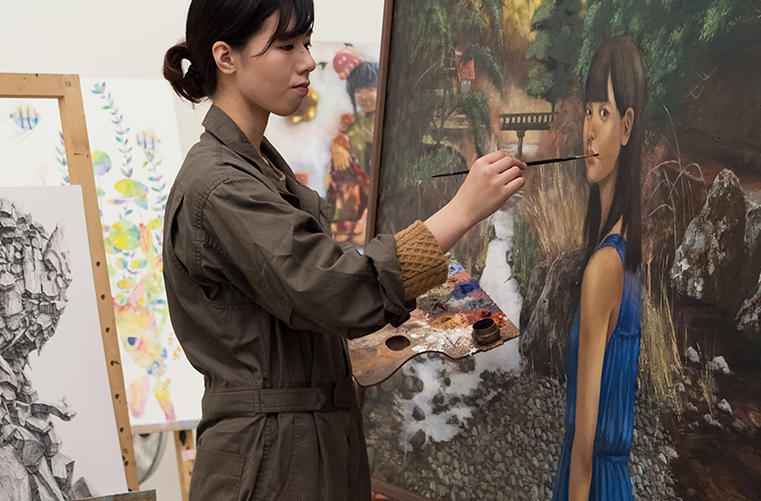 In recent years, there is frequent cross-over of differing fields and artistic areas in the arts environment, including the incorporation of cutting-edge media, and the various fields are becoming increasingly interrelated. This university offers a single doctoral course in The Arts which is a synthesis of the five Master's Program courses in Literary Arts, Image Arts, Fine Art and Design, Musical Arts, and Performing Arts that has been created due to these current artistic conditions. Also, this course functions as a space for developing new creative theories by focusing on investigation into your own personal specialization field while incorporating other research fields into your perspective. This program allows adult students to enroll as well (as a special case for the education method specified in Article 14 of the established standards of the graduate school), and the day and evening course system is an unusual and distinctive feature.
Individuals who have already completed a master's or doctoral degree program can continue studying their area of specialization with more advance research while working in academia, research facilities, or companies, and this program also provides an opportunity for up-and-coming researchers to extend beyond their field and take the initiative to study new areas of the arts.
Purposes of Education and Research

With the goal of further research into their own personal specialization field, students are also able to diligently study differing fields and areas as necessary for their research, and a variety of professors are on hand to effectively assist with the development of new expression and theory. This program trains students who possess advanced expression and research ability in combination with an abundant base of knowledge who will engage in independent research activities and other advanced activities related to their specializations after graduation.

Conditions for Completion
Enrollment for at least two years or more and completion of at least 30 credits in accordance with the regulations for coursework.
Submission of a dissertation and achieving a passing score for the final review and exam.
Full payment of the tuition required by the regulations.